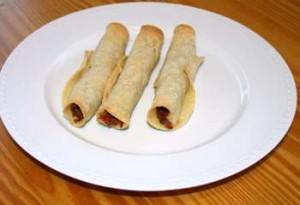 We used regular corn tortillas with canned beef from Sam's Club to make our Taquitos. Taquitos, similar to small tacos excepted rolled in a flute shape, are a favorite especially when served with guacamole. We soaked our tortillas in vegetable oil and baked them after we stuffed them with meat.
We used a cutting board to roll the taquitos, a bowl to soak them, and cookie sheet to bake them. You can add salt if you wish but there may be enough salt in the canned beef.
Always used a cooked beef with the taquitos.  The canned beef is pre-cooked.
| | |
| --- | --- |
| Measurement | Ingredient |
| 6 lbs | Cubed Beef in Broth (Canned – Sam's Club) |
| 80 | 5.5 Inch Corn Tortillas |
| 2 Tablespoons | Chile Powder |
| 2 Cups | Vegetable Oil |
| 80 | Toothpicks |
| 1 Teaspoon | Salt if desired |
| | |
| | |
Preparation:
Open the can and placed the beef into a large bowl. Mix in the Chili powder and other ingredients you would like to add. Experimentation is OK. Perhaps try some grilled chiles.
Pour the vegetable oil into a pan that is at least 6 inches wide and place six tortillas in the oil. After a few seconds flip the tortillas and separate them so that oil covers all of them. You can use a deep fat fryer, but don't overcook them.
Lay one of the tortillas flat on a cutting board and place approximately ¼ cup of beef in the middle of the tortilla. Roll the tortilla and hold the end shut by shoving a toothpick through the taquito. This will keep it from unwrapping.
Line a cookie sheet with a Silpat silicon pad and place the taquitos on the pad. You can probably line up two dozen or so on the cookie sheet. Preheat the oven and bake the tortillas at 350 degrees for 15 minutes or until crispy.
Remove the taquitos and let cool. There may be too many to eat at one time so place leftovers in the freezer.