Archive for Bread
You are browsing the archives of Bread.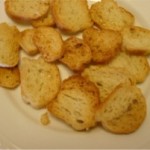 Mega Recipe Exclusive – There a several ways to make Melba toast, and much of it depends on the type of bread you use. This recipe will use sourdough bread made from scratch. 3) Mix in a mixer, kneed by hand or in bread machine, but don't bake in bread machine. Let the mixture rise […]
For people who are watching their weight or just want to cut back on carbohydrates, low-carb breads are just the perfect food for that healthy and satisfying meal. More and more people have started to practice eating bread for their breakfast, lunch and dinner because they believe that it can help keep the extra pounds […]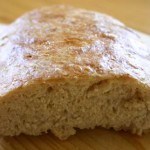 Our French Bread Recipe will make two medium sized loaves of crispy bread. It requires one egg white to be mixed into the batter and one to be brushed over the loaf. The ceramic stone will provide a thick crisp crust and even heating throughout.
It is best to let the dough rise overnight at room temperature. We like to separate the loaves and form them the night before because handling them will change the consistency of the finished product.