Archive for french
You are browsing the archives of french.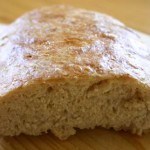 Our French Bread Recipe will make two medium sized loaves of crispy bread. It requires one egg white to be mixed into the batter and one to be brushed over the loaf. The ceramic stone will provide a thick crisp crust and even heating throughout.
It is best to let the dough rise overnight at room temperature. We like to separate the loaves and form them the night before because handling them will change the consistency of the finished product.