Archive for french-fried potatoes
You are browsing the archives of french-fried potatoes.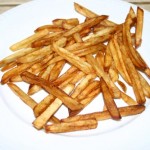 Did you ever wonder how fast food chains like McDonalds get their French Fries crispy and not soggy or soft? We found that soaking the fries in a sugar solution before frying works best. We also experimented and found that removing the fries after two minutes in the deep frier also produces a better product. See our recipe for details.